40+ Amazing Social Data Visualization and Dashboard Tools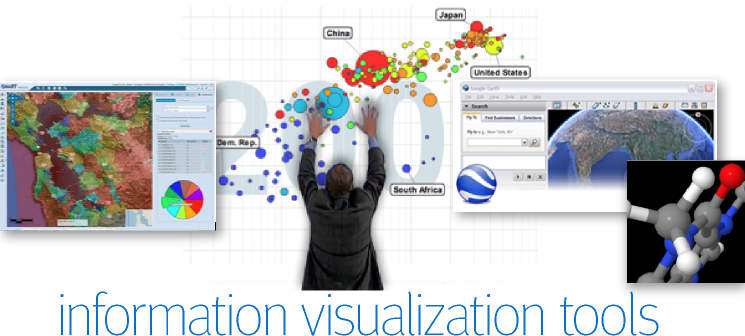 Keep in mind that some of these marketing resources and tools just need 'some play time' where you trial and test different types of data until they begin to make sense to you, your audience, and your business.
You should always keep in mind
Some people are intellectual and other people are creative.
Some people visualize numbers and some people visualize pictures.
Some people read the line, others read in-between the line.
Some people think as individuals, others think as groups.
Brilliancy and genius is simple and straight-forward
If you have a visualization tool we'd love to check it out.
"Easy to Use" Visualization Tools
Taggalaxy.de
Tag Galaxy is a very straight-forward visualization tool for clustering images based on tags and for exploring them in a simple user interface. The developer has setup some popular tags to begin exploring on the homepage, but you can easily search for your name, business, or popular industry hashtag.
Visual.ly
Is an application that allows you to create and explore visualization based on different types of social media seo data. They also have a fairly extensive gallery of infographics covering a wide range of topics.
Google+ Ripples
This is a hidden gem, often overlooked by many. It allows you to see the way any URL has been shared by users on Google+, clustering networks around influencers on a topic and providing a timeline feature that allows you to watch how a URL spread through-out a network. 
Revisit (image below)
This is a great Twitter visualization that allows you to see clustering and communication signals over the course of a specific timeframe. For social media managers and data analyst it is a good example to how some topics make a 'big splash' and other topics have staying power.
Tweet Spectrum
Great way to find words around related tweets and similar topics
 Charting Oriented Tools
Google Fusion Tables
Useful tool that has csv and Excel options, along with a wide variety of hidden tricks (a few searches on Google)We all know about the powerhouse that is Google.
Many Eyes
A useful data visualization tool by IBM, offering a variety of sample data sets to create visualizations to explore.
Web Content Based Tools
If you want to see how the world news is currently trending, Newsmap gives you a color coded segmentation of trending topics across major news portals. You can select filters according to country, as well as limit results to what is happening in the last ten minutes.
 Personal Visualization Tools
Visualize.me
Connects with your Linkedin account and creates a personalized infographic of your professional life. Has multiple control options for fonts, colors, and background.
InMaps - LinkedIn
(see previous post, Influence Analysis with Linkedin InMaps)
Provides a way of examining your Linkedin network and the relationships that interconnect everyone, with color coding features to highlight certain key networks so that you can visually see 'how' people are connected (through employers, industry groups, and personal networks.)

Barry Hurd About.Me Page

Biogrify
In closed beta, a different way to capture yourself on line in creative way.
Vizify TweetSheet
Vizify's TweetSheet showcases revealing details from your tweetstream, including: top followers, geographic impact, most-retweeted posts, and more.
Re.vu
This takes your Linkedin data and creates a visual resume from it.
Kinzaa
If you want timelines and infographics on your resume, this provides some simple tools for making one.
About.Me
If the above tools don't work, About.Me lets you create a fast landing page for yourself.
Word Based Tools
Tagxedo
A straight-forward 'word cloud' visualization tool. It can form word clouds from blogs, tweets, tags, rss feeds, and text import. Allows you to control the shape of the word cloud (import a company logo…) or have font/color changes.
Wordle
Another fast and friendly word cloud tool that allows you to make clouds from almost any text source.
Tag Crowd
If Tagxedo or Wordle don't work for you, Tag Crowd is a third option that has slightly different controls.
Map Based Visualization Tools
All of these tools do one thing… visual data on a map.
Chart Based Visualization Tools
Data Sources (the stuff to Visualize!)
 DEVELOPER BONUS
(Social Data Visualization and Dashboard Tools
for hard core users)
It features a great selection of 40+ scripts and files that you can use to create some great visualizations. These are mostly javascript functions, so you'll have to know a bit of coding to implement.
Axiis
Axiis is an open source set of visualization tools that allows advanced charting and visualization on a variety of different data sets. They have a few colorful examples, such as a breakdown of browser usage month-by-month since 2002. This is a useful data-driven toolset, allowing complex charting visualization with mouse over effects for embedding results on the web.
Gephi
Like Photoshop for data. Graph visualization and manipulation software. Gephi is an interactive visualization and exploration platform for all kinds of networks and complex systems, dynamic and hierarchical graphs.
Runs on Windows, Linux and Mac OS X. Gephi is open-source and free.
Other Developer Scripts and Codes
Hopefully these tools give you some remarkable new ways to create insight to your data.
If you can recommend a tool, please let us know in the comments below.
Thanks for reading