How Social Media, SEO & Content Development works together, synergistically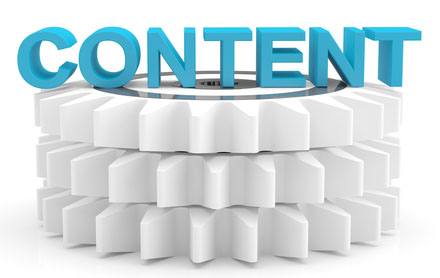 Content Marketing. It's the new buzz word flowing around the Internet marketing community for the last year or so.
I've been doing this online marketing "thing" for over a decade. When I first heard the phrase "content marketing" I was a little confused. WTF is that? I read the posts explaining it, but it left me even more confused. Why?
Because content marketing isn't a new strategy, it's merely a new word.
According to Wikipedia,
content marketing is "any marketing format that involves the creation and sharing of media and publishing content in order to acquire customers."
Why the fuck do we as an industry feel the need to invent a new buzz word for the same services every few years? We've been doing "content marketing" forever.
Offsite content marketing online is – and always has been – part of a good link building strategy. On site content marketing is part of a good conversion strategy and a good link building strategy.
Developing worthwhile online business ventures means content marketing must become the epicenter of your goals. And today, having business blogs is simply as fashionable as ever. Sure, blogs may not get as much attention as before with numerous landing pages and news sites taking over. They are one kind of website that will not disappear soon, however.
The primary focus of writing content should be to attract traffic to your site which may lead to a customer engagement and relationship which ultimately leads to conversion. You will be rewarded for quality content through return visitors to your site and/or improved SEO (Search Engine Optimization) rankings.
The more knowledge you are, the more valuable your content will be to the reader. Read what experts are saying about this subject to better get your head around it.
The reader needs to benefit from taking the time to read your content. If they are unhappy or feel like they wasted their time, they will most likely never come back to the site.With the ease of sharing content, thanks to social media, quality content will be spread throughout the internet. This will not only improve your reputation, it will increase traffic to your site.
Social media, SEO, analytics, blogging, and content development can work together synergistically to aid in online marketing success.The main thing that successful businesses do can be summed up in one word: Plan. Failing to plan will only prevent you from executing an Optimized Content strategy.
Starting with trend watching determine the trending terms are big the past 7 days and figure out what is trending right now that your company can take advantage of. Get keywords from that that people are looking for to get to your site or blog. Searching data is more than trying to rank but getting ideas for what people want to know.
Don't just write blocks of texts either, include plenty of white space and headings for each section. You need to make it easy to digest your content. Remember always to use relevant keywords to improve your SEO. Avoid using slang terms, as they may confuse the readers and confuse the search engine algorithm.Include emotional triggers in your writing, such as humor or interesting self explaining compelling images with relation to the content , it will make your content much more enjoyable.
Write how you speak, so that the reader gets the feeling that they are listening to you rather then reading what you wrote,for that you need a on-going source of professional quality images that you have right to, there are some best online image sources you can use for your content marketing efforts.
iStockphoto.com
According to their site,"All iStock files are royalty-free, which means you only have to pay once to use the file multiple times. We even offer a Legal Guarantee – our promise that content used within the terms of the license agreement will not infringe on any copyright, moral right, trademark or other intellectual property right, or violate any right of privacy or publicity."
Getty Images
According to their site,"Getty is the grandaddy of online images having been around since 1995. They are known for being high-end and having superior quality images. Their site explains, "Our extensive image and stock illustration offering spans everything from conceptual rights-managed and royalty-free creative images to up-to-the-minute editorial coverage – including news, sport and celebrity photos – and timeless vintage photography."
ThinkStock
According to their site,"Access to millions of royalty-free images selected from Getty Images, iStockphoto and Jupiterimages."
Fotolia
According to their site, "Our crowdsourced library includes millions of royalty-free images, vectors, illustrations and video footage clips. All images offered on Fotolia are royalty-free, and can be used for any design project or document, with no time limits or restrictions on the number of printed copies."
Now after you have got all the sources right you must know that a solid content strategy won't see success without three core components: search, social and discovery.No matter what reason you obtain your blog–to make money, to market a product, or just as personal journal–it is only logical that you might want to learn how to increase blog traffic. Ultimately, it's online representing your business unconditionally, which means the keys to internet business development starts with blogging etiquette and optimization.  In turn, you main business will receive heightened visitorship, engagement and ensuing sales.
You need to have already done the first key step in the process i.e beginning: key-phrase research prior to  simply writing articles based on people keywords and phrases,
Next,comes blogging. Blogs are a more active type of medium versus your website, as the messaging on your website tends to be more static and doesn't get updated as often.The good thing: search engines, like Bing, love blogs as search engines are trying to find new methods of returning relevant results to individuals who're searching. And that means you possess a good chance of acquiring what is known in SEO nomenclature as 'organic traffic' .
Why #Blogging Matters?
Blogs suit your developmental purposes on two accounts:
1. Blogs are centered on one subject. It could be a personal blog that you discuss the items that suddenly transpires within your company, or perhaps the ideas you've mulled over. Because of this subject agreement, the primary focus is keeping your business developments focused on that subject. However, if you're blogging to generate money, your site could have a much more narrow focus.
2. Blogs are indexed regularly. Search engines like Yahoo frequently place more importance on people websites that have newer content. Knowing this, it provides you with all the motivation you need to publish invigorating blog content frequently. Posting to blogs frequently builds domain authority, too.
3.Blogs Develop Main Website Traffic. Choosing the very best keywords and phrases to create your posts around is probably the first, and foremost, important strategy for increasing niche-specific traffic.Afterwards, you simply write articles based on people keywords and phrases, after they will post them live for you.
Social Optimization
To be competitive at optimizing content for social media, it requires more than tweeting a link once. Posts to social platforms need to be engaging, humorous, timely, visual, and digestible.Curation is widely accepted and necessary to stay competitive; Social feeds are crowded, and being noisy will get your content seen.Content needs to be strategically put in front of the right people at the right time.
Syndication
completes a perfect trifecta for any successful
content marketing
strategy.With more content being shared on more channels, ensuring that every piece of content produced seen by a target audience is more important than ever.Syndication platforms that place content in context with related pieces can increase the visibility, and therefore the discoverability among new readership This is similar to the idea of tweeting out a piece of content multiple times
From an SEO perspective, each new piece should include targeted keywords that are integrated into compelling content and headlines. The URL for this piece should be clear, include the keyword, and can be easily crawled for search engines.After the piece of SEO optimized Social Content goes live, it needs to be shared across all relevant platforms with captivating taglines to go with links. That link can be shared multiple times in the day or week using different creative taglines.
The result:
One single piece of content that has been truly maximized by a smart content strategy that will have a higher success rate